Packages
Notice: These packages are applied to each website instead of account. Each account can manage multiple websites with multiple different packages.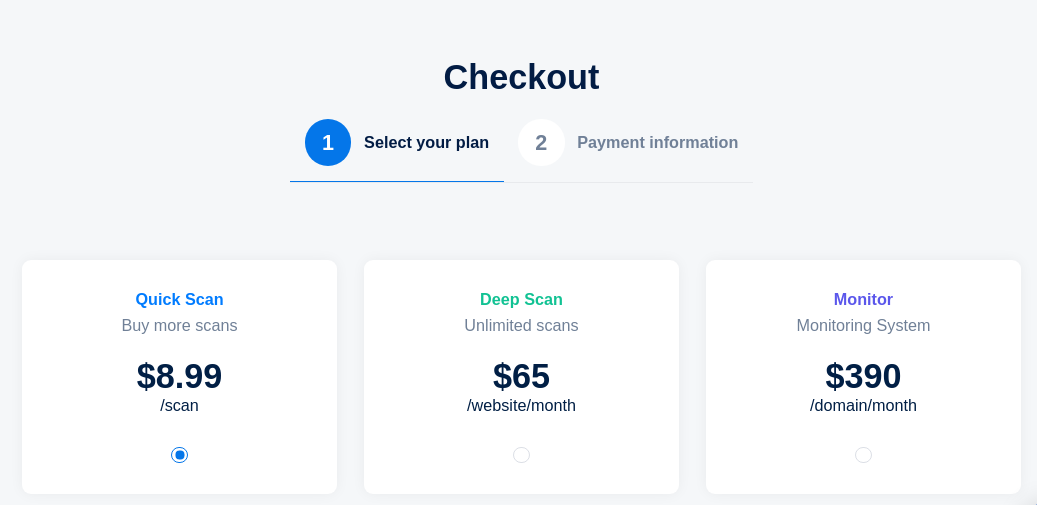 Quick Scan
Pay per scan: $8.99/scan. Each scan applies to one domain or IP address, excluding any subdomain (if any)
Including full Vulnerability Scanning features, allowing email alerts, exporting PDF reports and receiving vulnerability remediation support via email.
After accessing https://web.cystack.net/scan

open in new window

, customers will be able to fill in the domain name, login and verify ownership to start using Quick Scan.
Deep Scan
Pay per month, $65/website/month, with unlimited scans.
Including all Quick Scan features and allows group creating and managing, collaboration software integration, vulnerability remediation support via email and chat.
Monitoring
Pay per month, $390/domain/month with unlimited scans for root domain and up to 500 subdomains.
Including all Deep Scan features and allows:

Security monitoring for websites with up to 500 subdomains, for web applications, APIs, IPs, etc.
Automatically finding subdomains and perform security assessment for them.
Defense against Subdomain Takeover attacks
Periodically performing security assessment and reporting.